A Buyer's Guide to Sleeping Bags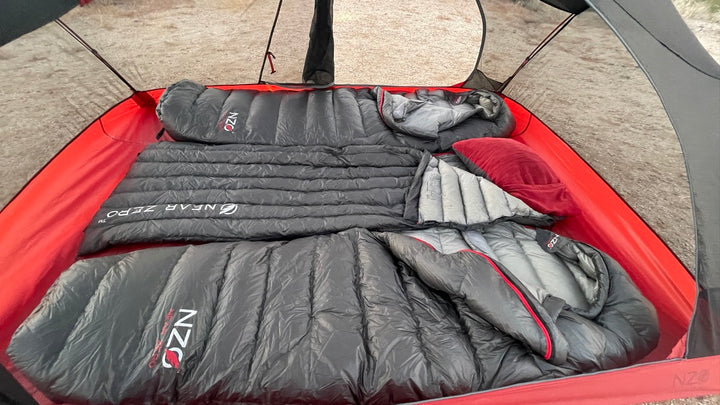 If you've ever shivered in a tent during a cold night, you understand the importance of a good sleeping bag.
In fact, a sleeping bag is one of the most important pieces of camping equipment you'll ever own.
It's common to experience cold nights throughout the Western United States, as well as in Montana. The summer weather in Montana consists of warm and sunny days and cold nights.
A large temperature difference between daytime highs and nighttime lows exists in valleys at higher elevations (e.g., Yellowstone or the Big Hole Valley), where temperature changes are typically fifty degrees.
This buyer's guide about sleeping bags is detailed due to its importance.
If you are looking for a sleeping bag for camping or backpacking, this guide should prove helpful.
This guide is meant to assist campers in avoiding long, cold, sleepless nights by helping them find the right sleeping bag like a Camo sleeping bag for their particular camping needs.
For Winter Camping - You should purchase a goose down sleeping bag that is rated at -20° Fahrenheit, but -40° provides a greater margin of safety due to unpredictable weather.
Summer Camping - Indoors or outdoors, a synthetic sleeping bag is the best choice unless you're sure you can keep it dry. Synthetic bags dry quickly and maintain their insulating properties even after being wet.
The temperature rating of the bag should be at least 20° Fahrenheit if you plan on camping in Montana or most mountainous areas of the USA in summer. It is best to use bags rated from 30-40 degrees for camping in very warm climates.
The lightweight and compressibility of goose-down bags make them perfect for bike camping. When buying a waterproof bag, make sure it's waterproof.
The difference between synthetic and goose-down insulation is that synthetic insulation dries fast and does not lose its insulating property when wet. If a camper is certain he or she can keep the bag dry, goose down offers the best warmth for the lightest weight.
Choosing the Right Temperature Rating - One good rule of thumb when deciding how warm a sleeping bag should be is to take the advertised temperature rating and multiply by then add 10-15 degrees to it. Thus, a bag rated to 20° degrees will keep you warm in temperatures of 30-35° degrees.
Where to Buy -
Buying a sleeping bag online can be a great experience with quality retailers like Near Zero. The best place to start with a sleeping bag if you don't know what brand to get is Near Zero. Our website is very well organized, and we provide detailed information about each sleeping bag. You also can buy from our amazon store.
Lightest Weight "NZ One"

Camo Sleeping Bags By Near Zero

The NZ ONE Camo Sleeping Bags is our lightest weight bag, weighing just 1 pound!  

This ultra-lightweight Camo sleeping bag is a multi-use bag that can be used as a down quilt, blanket, sleeping bag, or zipped with another bag to make a double-sized sleeping bag for 2 people. It is

designed to compress down to the size of 32 oz water bottle. The NZ ONE ultra-light sleeping bag (Camo)is filled with the softest duck down 900 material. It is rectangle-shaped (aka envelope). 

Get 

rid of your unnecessarily heavy old sleeping bag and save space for other camping 

gear. Purchase your NZ ONE Camo sleeping bag today!

FEATURES

– 

Made from premium-quality materials

– 

Filled with duck down 900

– 

Zip 2 bags together to make enough room for two people!

– 

Can also be used as a blanket or quilt.

– 

The temperature rating of 45

°

F or 7

°

C 

– 

Comes with a compression carrying bag

– 

Available in 2 designs: grey and camo!

– Measures 

 75″x 29″ (190 cm x 73 cm), or 75" x 60" (190 cm x 150 cm) when unzipped

WE ENSURE A 100% CUSTOMER SATISFACTION GUARANTEE!

We make our products under strict compliance with stringent manufacturing and quality standards.
---