Tips for backpacking with your little adventurers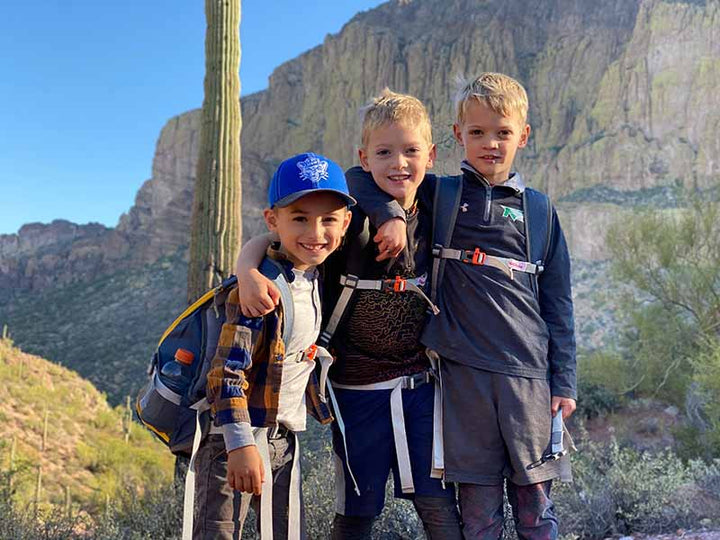 Believe it or not, it is possible to go backpacking with kids and we know it can seem very daunting. Kids require more than just a pair of pants and a shirt, they need snacks, extra clothes, extra water, and entertainment so your trip can be successful with as little tears as possible. But what is necessary and what can be left behind? Scott Jensen, Near Zero's founder, has taken his family of seven on many trips and has some tips for your next adventure with your kiddos. 

What to bring?
Clothes:

This is an obvious one. Bring an extra pair of clothes, including socks, PJs, and underwear. Kids can get into anything, and wet and dirty clothes can alter your plans for a fun trip. 

Food:

You know what your kids will eat, and we STRONGLY advise you to take food they'll eat. If your goal is to have a fun outing, make sure your kids are fueled and happy! Take the extra crackers, water, and fruit snacks, so you don't waste extra time calming down a "hangry" child. But remember, during the night, remove that food from your tent so animals don't interfere with your well-deserved rest. 

Tents:

Speaking of tents, pack a tent that'll fit your family. Near Zero has some great options that are lightweight and easy to set up and put away. 

Gear for kids:

When night comes, it might get cold! Having a child-size sleeping bag, sleeping pad, and blanket can help keep your kid's body heat in their bag. 

Toiletries:

Pack wipes and toilet paper. Kids aren't used to doing their business outdoors and having those things ready will help them feel more comfortable in an unfamiliar environment. 

Small toys:

Books, a small stuffed animal, or card games can be easy entertainment for your child. You can also be a source of entertainment by showing your kids what free entertainment nature can provide. 

Rain gear:

Check your local weather and be prepared! And if there's rain in the forecast, bring a poncho, some Crocs or sandals.

Extra light

: If your kid is new to camping, help them feel safe and keep light around. 

First aid:

Bring medicine, Band-Aids, gauze, and Neosporin in case there's an accident. 
How to prepare and make it fun
Find the right trail:

If it's your kiddo's first time on the trail, find one they'll be able to handle. If you want to try something a little longer, prepare them by doing some mini hikes so they can build up endurance for the stretch ahead. Take a trail you are familiar with so you can navigate it and know where you can rest and the distance to your destination. 

Plan some games:

There are many fun things to do when you get to your campsite but on the way, playing games like I Spy or doing a scavenger hunt can make the hike entertaining for you and your kids. 

Take your time:

Take the time to explore with your kids. Make simple experiences magical like dropping a stick in a stream and watching it float down like a boat or looking at the shapes of leaves as you're walking. 

Bring man's best friend:

If it's appropriate, bring the family dog. Your dogs can give your kids a sense of security and be another playmate on this adventure.  
Our last piece of advice is, don't be afraid to try backpacking with your kids. They will soon learn to love it as much as you and be hiking alongside you in no time! Being outdoors, in our opinion, is one of the best places to make connections and build bonds that will last a lifetime. 
---